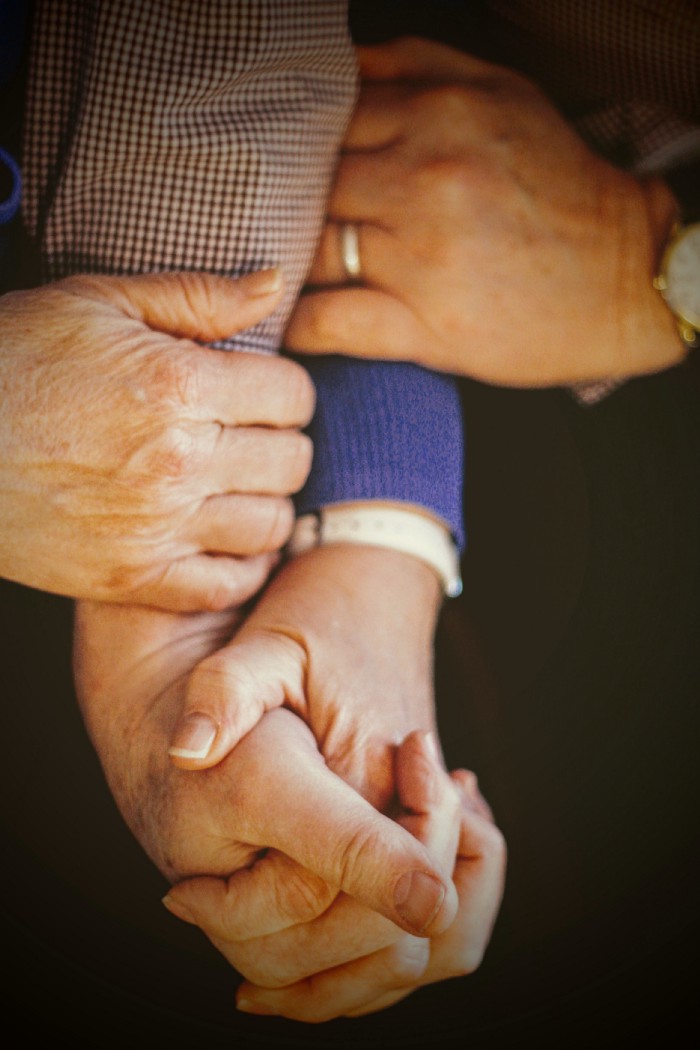 Getting older. Wiser. Better. Happier.
The contract is set in stone by nature. So work at the small clauses!
You will die. You don't know how many years you have. But, if you are lucky, you learn sooner rather than later (or ever) to take advantage of your understanding of the rules.
I have seen too many people dying too young. They did not perceive the game of living first two rules: you have a limited number of days left, and you do not know how many. Oblivious to those rules, they rushed to that expiration date filled with dreams and goals that would never fit in their lifespans.
Most of the anguish I feel in these cases is related to the different life choices they would have made if they only knew how little time they had left.
Learning not to be a jerk and understanding that life is the journey and not the destination, that you should enjoy it, are impossible messages for young people that envision they have all the time in the world in front of them. Sadly, those "early" years are all they get for some people. So assume you are one of those unlucky few and speed up that process of learning to live.
I know everyone is teaching everyone else; it is not about you, the individual. I beg to differ. It is also about you, your life, how you want to live it. How you fit with everyone else around you, the impression you leave behind, how you treated others; it all comes down to you being a better or worse human being. And you should feel the need to be the better version of yourself and love what you see in the mirror.
Don't be the pathetic character that is endlessly trying to get back in time. Instead of attempting to correct whatever happened, endlessly focusing on changing irrelevant failures, focus on just being better next time you meet similar challenges and move on. Savor life and forget perfection; your goal is to improve each experience.
"If you are pining for youth I think it produces a stereotypical old man because you only live in memory, you live in a place that doesn't exist. Aging is an extraordinary process where you become the person you always should have been." ∼ David Bowie
I find my lack of faith disturbing!
The concept of being the wealthiest person in the cemetery, someone people remembered as a winner at some long-forgotten game, is your goal? Really? Let me break this as gently as I can: you will be dead. You will not exist. There will be as much of you after you are gone as before you existed at all.
Before jumping in with the religious concepts, please know that I already assume I may be wrong. I love the idea of being wrong. You may be right. We can all end up in some cloud looking down at our legacy and loved ones. Not feeling any pain, separation anxiety, and not being terribly bored by the concept of "living forever" in a non-corporeal form after a few years. If these ideas give you comfort, please keep them. I would love to enjoy the benefits of faith, but I am personally unable to do it.
Having the burden to live without faith, my bad, I have no option but to face these few years among you as all there is. So I have to take advantage of what I believe I have.
Not a zero-sum game?
You will lose a lot of things over time. So I will skip all the obvious stuff everyone figures out in their early teens about growing older. Instead, I will focus on the great things you should enjoy losing and winning, and that will make you much better and happier.
"At age 20, we worry about what others think of us. At age 40, we don't care what they think of us. At age 60, we discover they haven't been thinking of us at all." ∼ Ann Landers
How others view us is way overrated. While you will love yourself for being a decent human, which is why you should act like it, you must not live your life with a third-person perspective. Try hard not to be the jerk. Treat others with respect and kindness. When the dust settles, and all is said and done, you are the one that must face yourself in the mirror.
Love of my life. That one. Yes, the tall brunette to the right.
Weird things happen as you get older. Of course, they do not happen every time, but I have seen them happen over and over again.
Suppose you were one of the unlucky teenagers that felt invisible to your sex interests. Your predicament is very likely to improve with age. If you are a man, keep yourself clean and moderately well employed, and you can turn out to be the sexiest mid-age person around. As your self-confidence grows and values change as everyone matures, you may be the last tree branch they grab while falling from their college beauty thrones.
By that time, you learn that attractiveness, while relevant, is probably not all you are looking for. I hope it is not for your sake; because you will end up with just a pleasant-looking trophy spouse. So how do you endure the hard times and life hurdles together? Do you have mutual respect and willingness to sacrifice?
See, as we grow older, we value different things in people. Sometimes we love a tiny bit of time in our journeys. But, relations may not last forever. Sadly, seasons change, and going in separate ways may be the best for both. But, it does not diminish in any way what beautiful moments you had together.
"A happy marriage is the union of two good forgivers." — Robert Quillen
I have been happily married for two and a half decades. I enjoy every day with my wife. I try to be there for her. She is my lover and best friend. I try not to act like an asshole and fail miserably sometimes, but the commitment to getting better has been there from the first moment. She has her struggles. We are both inclined to make the best of our time together.
"Marriage: Love is the reason. Lifelong friendship is the gift. Kindness is the cause. Til' death do us part is the length." — Fawn Weaver
Some people are misguided lone wolves. Some make their way in life, living alone. Society has taught us that we are social beings, but while I wholeheartedly recommend looking around for a soulmate, it does not have to be that way.
"Coming together is a beginning; keeping together is progress; working together is success." — Henry Ford
I have also seen people living alone in marriages — just two people partnering in life in parallel paths. It's easier to share bills, security, and knowing you have life partners that will be there for you. There is certainly a lot of love (there is more to it than having sex and wearing a ring), respect, and friendship in those relations, but things are not always what they appear to be.
The perception of time changes; it gets faster.
Remember how summer vacations looked like they lasted a lifetime in your youth? Unfortunately, I have some bad news; they will sprint by when you get older.
Time as a resource becomes precious with age. So you learn to nurture and cherish every second — the people you love become more important. Forgiveness and tolerance prevail over resentment and anger.
Bucket lists matter. Just do those things you spent half your life postponing. Choose carefully what truly matters to you and go for it. The sooner you turn them into sweet memories, the better. You may find yourself wanting to turn things that you always imagined, like a once-in-a-lifetime thing, into recurring events. Do it while you have the time.
You can and do time travel to the future at an ever-accelerating pace. The sooner you realize this will happen, the more you will take from the journey.